If you are now in your mid-20s to mid-30s that means you grew up, at least partially, in the 90s–you know, that decade Buzzfeed won't let us forget about.
The 90s produced a lot of terrible things, but the decade did produce the best Simpsons episodes ever made. Believe me, I know it's kind of hackey to rag on the show's newer episodes. I've heard from people who say the newest episodes have improved, but I wouldn't know. I stopped watching 10 years ago.
Maybe it makes me a curmudgeon or a snob, but I firmly believe of the Simpsons as seasons two through 10.  The first season was still working out some of the kinks and, for me, things just started to fall apart after season 10. But, in between, lie some of the cleverest TV ever broadcast.
WFLD, the Chicago FOX affliate, played The Simpsons three times a day–twice around dinner time and then a late episode around 10 p.m. As a kid, I saw pretty much every episode from the golden era…multiple times. It was difficult to choose, but here are my favorite episodes from each season.
Season 2 – "Lisa's Substitute"
Initially, I was going to select another episode–possibly "The Way We Was," "Simpson and Delilah," "Homer vs. Lisa and the 8th Commandment" or "Three Men and A Comic Book"–because I laughed more. I thought about it and realized that, even though this episode has less laughs, it's better overall. It also has possibly the best cameo of the series: Dustin Hoffman playing Mr. Bergstrom, the substitute.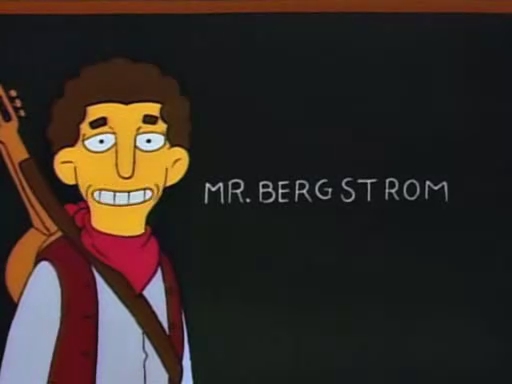 When Miss Hoover gets Lyme disease, Mr. Bergstrom takes over the class. He's engaging and interesting and basically the antithesis of all the other teachers at Springfield Elementary. Lisa is immediately taken with the new substitute. Shortly thereafter, she runs into him at a local museum and is embarrassed by Homer's graceless behavior.
Miss Hoover's Lyme disease turns out to be psychosomatic, and she comes back to class. Thus, Mr. Bergstrom will be leaving town. Lisa panics and rushes to the catch him before he leaves town for another job, admitting she won't know what to do without him. Mr. Bergstrom writes her a note and tells her it's all she'll need if she's feeling alone. The note simply says "You are Lisa Simpson."
Upset by his departure, Lisa takes it out on Homer, calling him a baboon. Homer, in his own clumsy way, is able to console Lisa. He expresses, again clumsily, that he's never lost anyone like Mr. Bergstrom because all the people he truly cares about and loves are living under the same roof as him.
This episode is great and unique because it doesn't really follow the conventional path of a sitcom. The story arch is more like a drama with a few laughs thrown in here and there. It didn't need a bunch of Homer or Bart's shenanigans or goofball one-off characters to make a memorable TV. It was done in a way that only The Simpsons (or possibly Futurama) could have pulled off.
If you were exactly the right age to see this episode when it aired (pre-teen/teenager) or even in reruns, I can't help but think it would be extremely comforting to see someone like Lisa–smart and resourceful but not necessarily popular–on  a popular TV show go through many of the same things you might be feeling.
Perhaps The Simpsons wasn't the menace to society that talking heads in the media depicted it as.